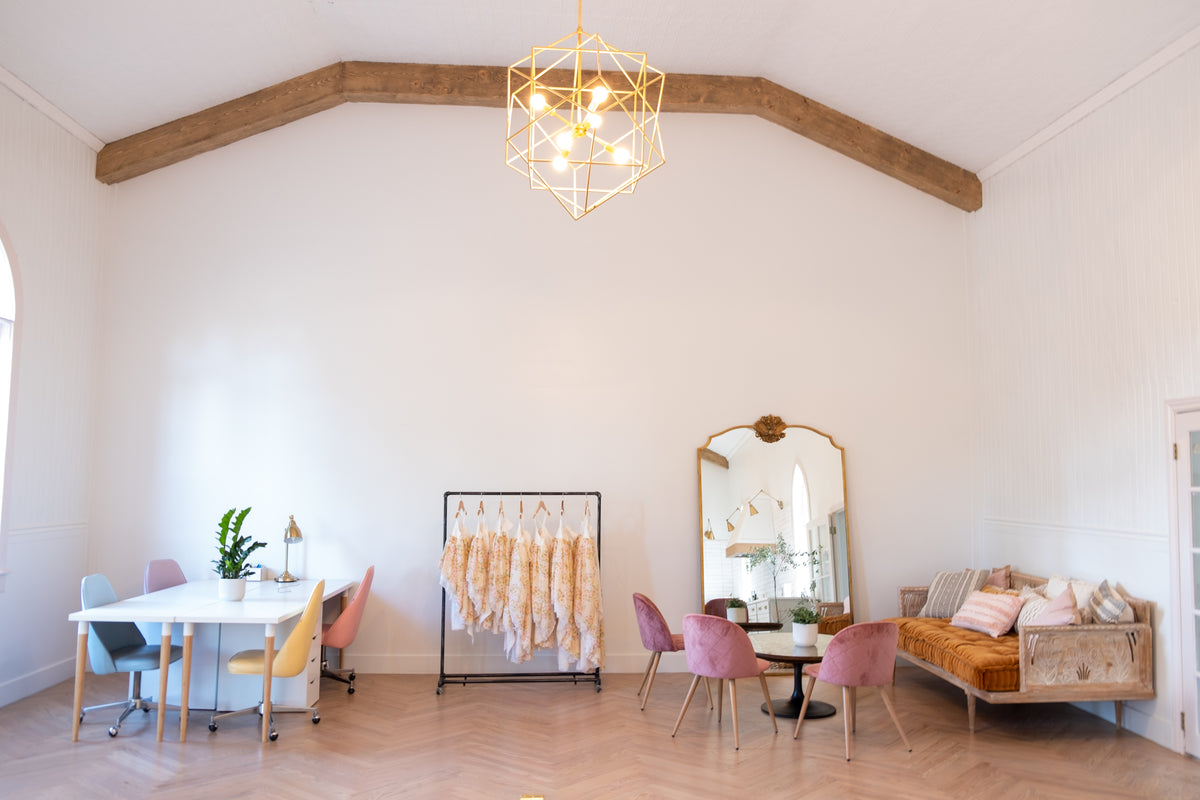 Welcome to the new Pleiades headquarters! We are still bursting at the seams with joy to be able to work out of such a beautiful space. The history of this place is so special, that we just had to share with you the story of our move to "Saint Ida"
Moving into Saint Ida has been such a huge transition for the Pleiades team. For 2.5 years we worked out of a basement, and while we are so grateful for our humble beginnings, it was clear we were growing out of our little studio.
So, in the Summer of 2018 we started the search for a new studio. Our hope was to find a place close to a main street in one of our nearby communities, so the team would be walking distance to coffee shops, restaurants, and other fun options. After several months we were feeling pretty discouraged. Everything was either far too expensive or just didn't fit the mold of what we were hoping for.
Then something interesting happened. 
One day while driving I started to pray. You see, Pleiades has never felt like it belonged only to me. From the very beginning I've felt like it was a gift from the Lord, a way to do more good in the world, and because of that I believed that God had a plan in store for us.  As I prayed about finding a new home for Pleiades, I had a vision of a purple church. I thought about how amazing it would be to have a studio in an old church. I imagined how we could paint it purple - how fitting for Pleiades!
The next day I got a text from Tim. When I looked at what he sent, my heart skipped a beat. It was a picture of a purple church for sale!  What's amazing about this is that I hadn't even told him about my vision yet.
When we went to see this purple church in person, we learned that it was the very first Catholic Church built in Lafayette, called Saint Ida's Catholic Church. It was more than 100 years old!  We were in awe of how open and beautiful the space was. And, we were beyond excited that it was in one of the exact locations we were hoping to be in. It was perfect. We needed it.
As we went through the purchasing process we realized that Saint Ida's has a really special history. We learned that friends we love and care about have come to this very place over the years to worship, record music and create art on numerous occasions. Most recently, it was home to an old friend of ours who was using it as a recording studio. We loved that this building had such strong ties with the community. We loved that this has been a place where people have come to gather, be in community and be creative.
Before we began remodeling, we were able to dream a little with some of the previous owners who knew this space well. We asked them what they always wished for when they lived there. 
We worked on integrating as much of their hopes and dreams as we could, including wooden beams on the ceiling, hardwood floors throughout, and an updated kitchen. We have also started working on fixing up the patio space to be a place for community to gather. 
Saint Ida is such a special place. All of the things God was telling us to shape our business after is already rooted deeply in this sweet building. From the moment it was ours we envisioned using it for more than just our studio, and have since used it for community gatherings, worship nights and events for Reintegra. We believe this place is all His, and we are so grateful He is allowing us to be stewards of it. Our hope is that Saint Ida continues to be an anchor for the community that continues to tie us all together in a good and positive way.
(Our beautiful team - missing Elyse and Katie)