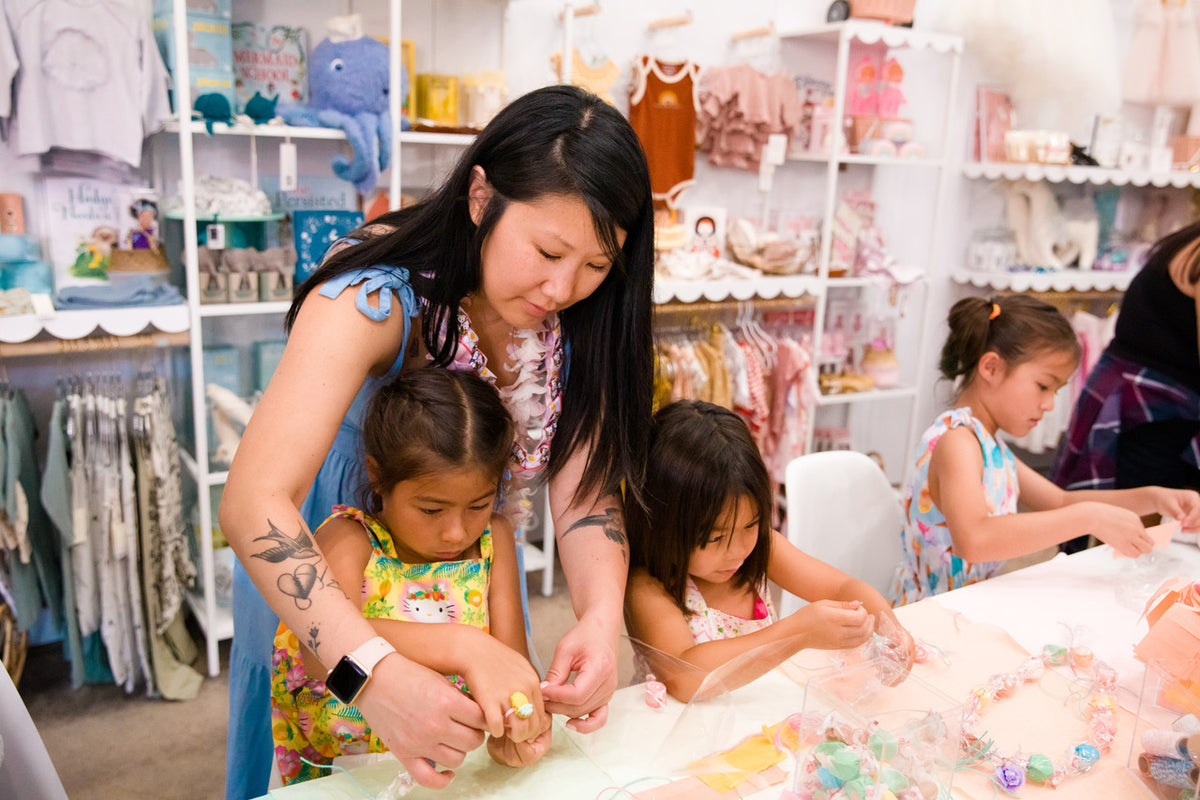 Happy Summer! We have partnered with Ellyn, the owner of Se Mari, to bring you the sweetest piece that is sure to be a summer staple for your littles (see the special dress we designed together below). There is so much heart and integrity in Ellyn's work, and it has been such a pleasure to collaborate with her. During this process, we had the opportunity to dive deeper into the passion and drive behind her small business. 
What does Se Mari mean? 
It roughly translates to "three little animals" in Korean. It's an homage to my 3 children because they are my three little animals. 
How did you get started in handmade clothing? 
I first launched my shop in 2015. It was just accessories at first - cute little stuff that I wanted to sew and knit. It segued into clothing after I felt confident that I could make some good pieces. It started really slowly. 
Who taught you to sew? 
My mom taught me the basics of sewing on her old 1970's sewing machine after my first child was born. After I had children I felt this real need to create and make things for them. 
Where do you draw inspiration from? 
I draw inspiration from my childhood. I have always loved vintage things and vintage fabrics, but really anything that stokes nostalgia and reminds me of my happy 80's childhood. I infuse a lot of that into what I sew. I take a lot of time finding old vintage textiles and converting them into things that look modern and can relate to times now. 
What do you like to do for fun? 
I like to hang out with my family and friends. Whatever we do I just like being with them. I like to create. I love my work and it doesn't feel like work to me.
What is the hardest part for you about owning your own small business? 
Having no boundaries. I usually work around my kids - when they are at school and after they go to sleep. Sometimes I just get lost in it and don't know how to turn it off. That's a struggle for me. 
What is the best thing about owning a small business?  
Freedom to do what I want and control what I want to make and when I want to make it. I am able to set aside time for my kids and be their mom but do this at the same time. Some people have asked me to expand my business, but my top priority is to be a mom and be present for them while my husband travels. After my kids are a little more self-sufficient I will think about that.
What is the biggest oops that has happened when running your small business?
I make mistakes every day so it's just a culmination of small mistakes. It's a matter of owning up to them, brushing them off quickly and moving forward.
 What is your biggest success? 
I have done things that I truly like and I have always stuck by that. I will not sew things that are ugly and I won't send bad vibes out to the world. I work with people that I know are good, passionate people. I recently had a pop up in California where I met so many girls wearing my dresses that I made in the wee hours of the morning. It was just so surreal and drove me to tears. I am passionate about my work and the quality and think I am successful in that way.
Don't miss out on the extra special release of the Rainbow Heart Pinny TONIGHT, July 1 at 9 PM EST.
"I like things that are bright and cheery. Sometimes life can be really dark and if you can invoke happiness through bright colors that is the way I like to lean."
-Ellyn Navarro (owner of Se Mari)